The big finish this week is the blue and tan quilt for Quilts of Valor, along with the presentation bag for it. I also started on the next round for the Twilters Round Robin and made my class sample for the totebag class I was teaching. The class ended up getting cancelled due to lack of sign-ups, but we're going to try rescheduling it for the fall.
I also picked up my blocks for this month for Tiny Stitches.  The Mum Medallion block had some poor lighting due to the sun diving behind a cloud like it had all been all weekend, on and off.  The Bonnie & Camille blocks will be set on point, so I tried photographing it that way for interest.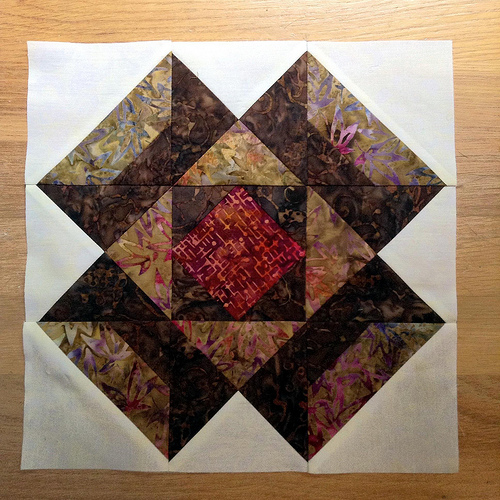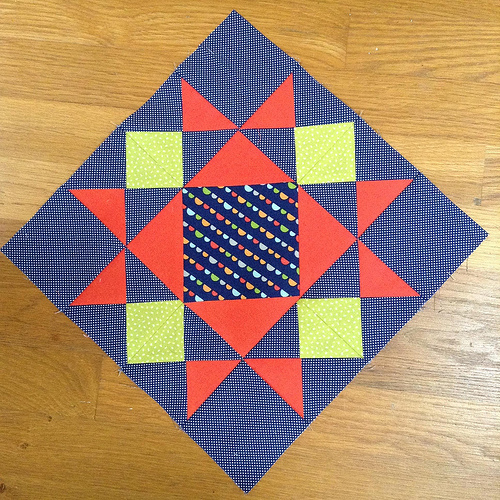 Used this Week: 13 yards

1 yd for Tabby Stripe bag
8 yd for Blue/Tan Quilt of Valor
1 yd for QoV bag
1 yd for Round Robin
2 yd for totebag sample

Used year to Date: 238.75 yards
Added this Week: 0 yards
Net Used for 2014: 160 yards
YTD Used for Charity: 89.5 yards (37% of total used)
See more stash reports at Patchwork Times!