I feel as if I've stitched on a lot of projects this week, but didn't really finish much.  On the actual finish pile, we have 2 travel drawstring shoebags and 2 storage bags for quilts I'm entering into the show this June (assuming they are accepted!).  On the "things I worked on but didn't finish pile", we have these things:
Harry Potter POD block 6: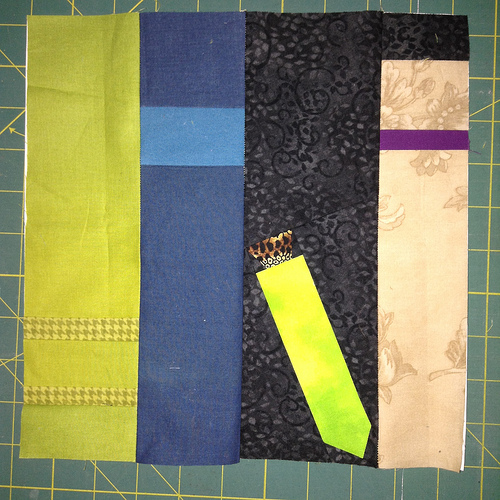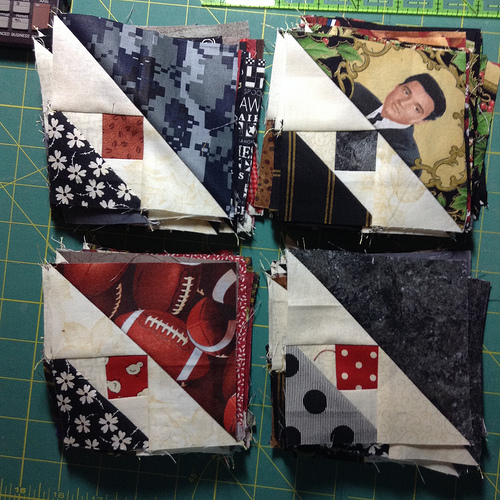 Scrapitude Scrap-in-a-Box Step 2. Sewn incorrectly, of course, but when I was 60 into 82 finished, I realized my mistake and just plowed forward.  This is in the tradition of Scrapitude quilts-alongs for me since the one last year I inadvertently left off the sashings in my first attempt.
And finally, my One Block Wonder in progress!  I took the class yesterday from Melinda at Tiny Stitches, and made pretty good progress.
I started with 6 panels, which makes finding your repeats pretty easy! I have an extra one for the back of the quilt so I can remember what it looked like.
And here's how far I got in class - probably about a third of the blocks I'll end up with in total.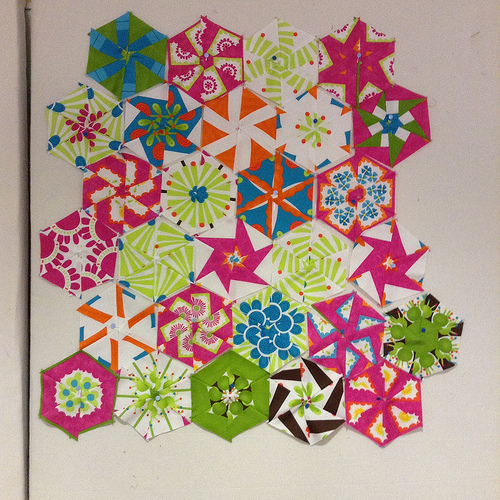 Used this Week: 2.75 yards

0.75 yd for 2 travel shoe bags
2 yd for 2 quilt storage bags

Used year to Date: 52.75 yards
Added this Week: 0.25 yards

0.25 yd for a FQ since Tiny Stitches gave away a free fat quarter to everyone yesterday!

Net Used for 2015: -2.5 yards
YTD Used for Charity: 25.25 yards (8% of total used)
See more Stash Reports at Patchwork Times!