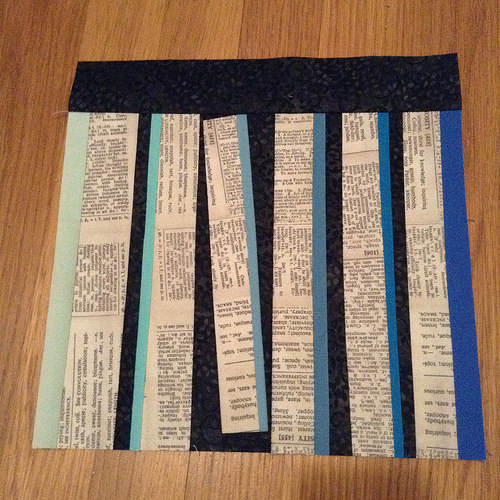 Lots of stitching this week compared to prior weeks.  I managed to stay on top of the Project of Doom, although I think my block is slightly upside down.  Hmm.
I also finished up Step 3 for Scrapitude Scrap-in-a-box, without any mistakes!  I pieces these as leaders and enders while making more progress on my One Block Wonder quilt.  I think I'm about a quarter of the way through piecing blocks together, but it's hard to tell since I haven't unrolled the portable design surface (read: flannel backed tablecloth) all the way since last weekend.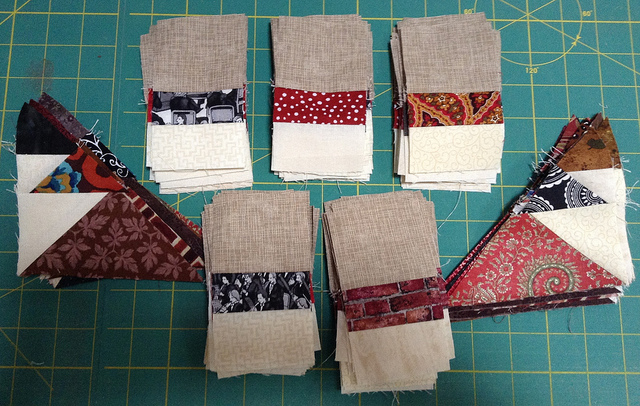 I also finished up a baby quilt I was piecing from 5″ squares from my scrap stash as leaders and enders for the OWB, too, and started a second.  Slowly chipping away at that net usage number!
Used this Week: 4 yards

 4 yd for  charity animal quilt

Used year to Date: 68 yards
Added this Week: 0 yards
Net Used for 2015: 

12.75 yards

YTD Used for Charity: 38 yards (56% of total used)
See more Stash Reports at Patchwork Times!