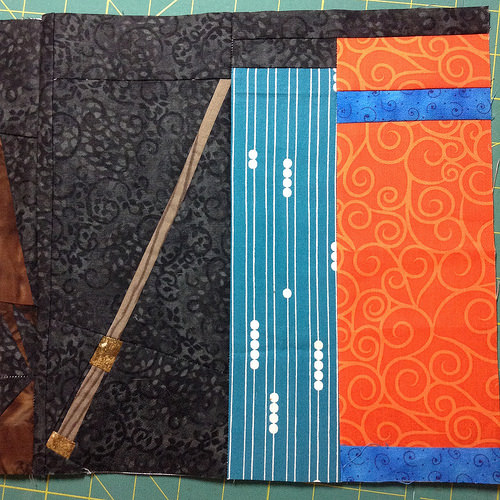 This week I finished up the other two Sew Together bags,  my Harry Potter block, and a small quilt at my daughter's request.
First, the Harry Potter block.  I went with Harry's wand in a wood grain fabric.  I forgot to check the sizing when I printed, so my block came out 3/8″ too small and required some spacer background pieces to bring it to the right size. Alas! Fortunately this is a fairly forgiving block for this sizing issue, so it wasn't too bad.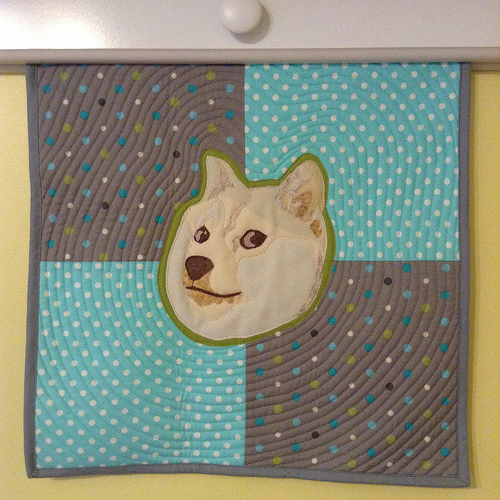 My daughter's "doge" quilt is based on an internet meme that started with a captioned photo of a Shiba Inu using the Comic Sans font. It is her current obsession, and she desperately wants to go to Japan as a result. I've tried telling her that you don't see Shibe's frolicking in a field right when you get off the plane in Tokyo, but she is so far undeterred.  She'll have to settle for her doge quilt in the mean time.
I found a vector art file of the doge face and traced the big chunks onto paper backed fusible, using 5 different fabrics for the face. She specifically wanted the face on 4 squares, so I stuck to simple piecing and quilting and finished this in a day (but didn't tell her it was done until after I showed it at my guild meeting this morning!).
Used this Week: 3.25 yards

2.5 yd for  2 Sew Together bags
0.75 yd for Doge mini quilt

Used year to Date: 95 yards
Added this Week: 0 yards
Net Used for 2015: 35.75 yards
YTD Used for Charity: 55.25 yards (58% of total used)
See more Stash Reports at Patchwork Times!