It was a fun week this week, with the last block for Bonnie & Camille, the next one for Solid as a Rock, the Harry Potter block and the Brown Bag swap for the Atlanta Modern Quilters Guild. First up, the blocks: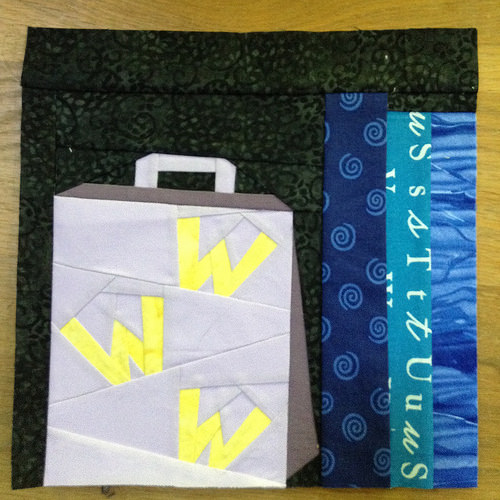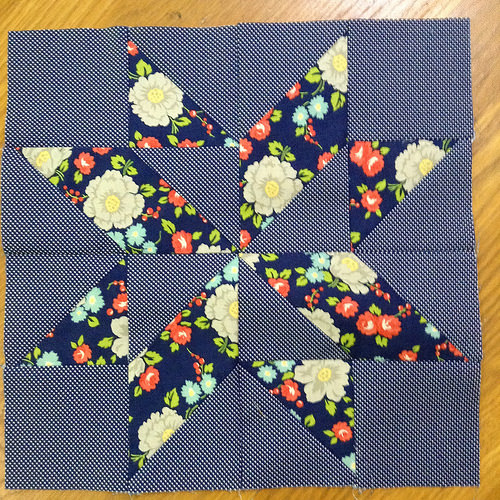 The navy dot fabric I bought this week is the same as the background in all the B&C blocks since I'm planning on doing some applique for the setting I've got planned.
For our guild swap, I'll do a separate post for the quilt I made (and logged into this weeks finishes), but here's what I got back:
It's about 21″ square, and those little swoon blocks are 8″ each (which is 1/3 scale from the original Swoon pattern!). I think the only thing added was the white background fabric, and I love it so much! It's already hanging up in my office.
Used this Week: 5.5 yards

0.5 yards for two placemats
5 yards for Quiltus Interrupted

Used year to Date: 108.25 yards
Added this Week: 7 yards

2 yd navy pin pot for Bonnie and Camille Saturday Sampler quilt
5 yard of lime grunge

Net Used for 2015: 37.5 yards
YTD Used for Charity: 55.75 yards (52% of total used)
See more Stash Reports at Patchwork Times!