I've been doing A LOT of sewing in finishing up the top for the Harry Potter Project of Doom, but am still a bit far off to actually finish the quilt.  The bookshelf itself is done, so I'm working on a dragon for the top of the bookshelf (the sword will fit on the left side okay, but I'm still adding crown molding!), and I've already finished a Cornish Pixie and a flying key to have hover over either the sword or the broom.
My plan is to create some bias strips to make a cage for the pixie, but I need to get the full side panels to flank the bookshelf to put together first.
For the dragon, I've finished 6 of the 8 pages of pieces for the block, which will finish at 10 x 20″. It is no joke, and I'm hoping to get the last two pages of pieces done by Tuesday evening, which is also when my items for the consignment sale for the kids is due as well.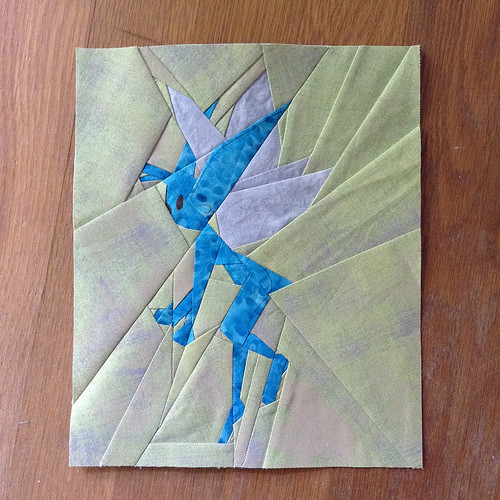 Used this Week: 0 yards
Used year to Date: 148.75 yards
Added this Week: 4.5 yards

4.5 yd of panels for a One Block Wonder quilt (a birthday coupon splurge!)

Net Used for 2015: 65.5 yards
YTD Used for Charity: 73 yards (49% of total used)
See more Stash Reports at Patchwork Times!