So… it's still August, right? I mean, I made it with… 4 days to spare. Yeesh. Good thing I like this quilt enough to leave it up through September!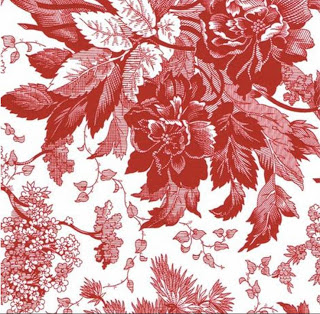 I got the idea when I found this fabric on eBay from a seller that I was purchasing some Dora fabric from to make Bloomer a dress. Since it wasn't any extra shipping, I bought it. That's how all the best fabric stashes start, I'm sure - the popular saying amongst quilters is that "She who dies with the most fabric wins". So far my MIL is beating me, but I keep depleting her stash for my projects (to keep her grandchildren clothed!). She's also fond of saying how happy I'll be when she dies because I'll get all her fabric. That seems morbid, so of course I have to protest. Plus, she's a decent cook (of ham, anyway - Thanksgiving turkey can be a bit dicey).
HA!
I kept the fabric for several months before I wandered into my local quilt shop and saw a quilt on display as part of their Customer Trunk Show. A woman had purchased a kit that included similar fabric, only in blue instead of red, and it was GORGEOUS. Of course I didn't need a kit since I already had this piece of fabric, but I did need coordinating fabric, which I conveniently found on clearance online. Of course, to get free shipping, I had to purchase a little bit more fabric to bring my total order up to $35. Into the stash!
Since it's red, it made perfect sense to make it up for my August quilt since it's Grama Eddie's favorite color and this month she turned 100. Yes, Brief's birthday is also this month, but he's got airplane curtains in the office and I don't really want Airplaneapalooza in my living room. Neither do I want cheesy pumpkins for October's quilt.
Anyway, here is the finished product:
The motto for this quilt is "Measure twice, cut once". You'll notice it hangs a bit below the back of the couch, so I have to rig up some stops to put behind the couch to prevent it from being pushed back and pinching the quilt. But I'm pleased with it. Just wish I didn't have to take it down next Tuesday to show my quilt group - I'll hang it back up on Wednesday, though.