There are times in my life when I appreciate my experience for the skills it has given me. Being a math nerd. Loving a good spreadsheet. Being handy with power tools. Becoming more adventurous with cooking. Sewing.
I've already demonstrated the combination of spreadsheets and sewing in this quilt project. And so, when contemplating a way to make the free-motion quilting easier for this king-sized quilt, I had to draw on lots of those other skills. It started with this little adaptation from a couple months ago: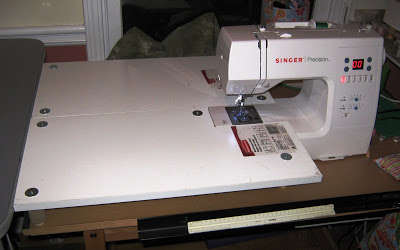 This simply extends the base of the sewing machine level with the throat plate so there's not a lot of drag from the part of the quilt you're not sewing on. Which is great for smaller quilts, but not terribly helpful for a kind-sized quilt. We made it with a couple laminate shelves with 1 1/4″ dowel rods for legs with rubber stops screwed into the bottom. Typically to buy an extension table like this is $200. I think we spent $25 on this.
Side note: That is an architect's scale in the pencil trough of the drafting table I use as a sewing table. And no, it's not easy to explain to a five year old how it works. Mostly it's used to push Matchbox cars out from under that car, and I guess that's all a five year old needs to know about it right now.
So overcoming the problem of the What To Do with the Rest of the King-Sized Quilt, I drew on all those skills. And in the immortal words of teh interwebs, "
There, I Fixed It.
" (this website is an awesome testament to just about every senior project I saw at Georgia Tech's engineering school)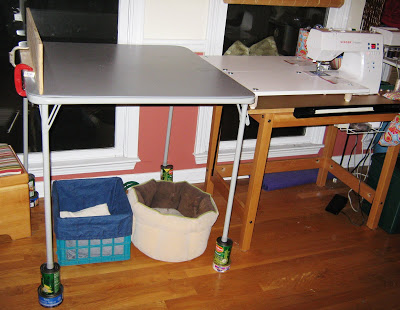 Yes. That is a card table. Elevated on cans of tuna, corn, and beans (and two cat food tins as well). With a piece of plywood clamped to the side to prevent the quilt from falling on the floor.
Also worth noting: the round cat bed under the table is eschewed in lieu of the crate right next to it. Cats are weird. Neither bed has been slept in since this kludge-fest, which may also be a testament to how intelligent cats are.
I'm pretty sure that is the pinnacle of all things I can achieve in my life. Until I learn how to use a blow-torch, that is.