I've tried to sit on this for another couple of days until the Christmas/Festivus party we've been invited to with the White Elephant gift exchange this will be a part of, but it amuses me too much. It's like that weird compulsion to write about boogers and poop on a blog… must… share… with… internet. When I heard that the historical "winners" of the gift exchange in the past included Elvis Pez dispensers and a sample of the Joan Rivers perfume collection, I knew I had to bust out the craft skills for our contribution.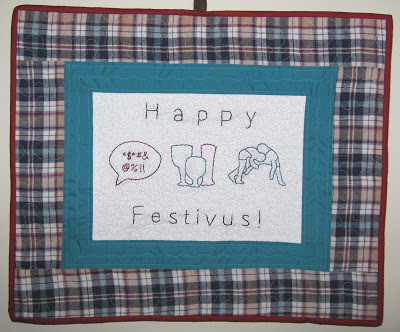 I really think that "plaid" should be the official color of Festivus (for those not familiar with Festivus, you can read more about it here). This hand-embroidered and machine quilted wallhanging represents 3 of the 4 important traditions of Festivus (from left to right): The Airing of Grievances, Alcohol, and Feats of Strength. We'll also have a Festivus pole to go along with this lovely gift.
I've been on a tear since finishing the king-sized quilt, so its nice to see projects move along. I also spent some time organizing my fabric stash and reorganizing my sewing area, although it still sort of looks like a fabric store exploded in my house. I can only imagine what sewing a giant pink fuzzy kitty will do for the fuzz quotient in the house.