I'll have another random finished handmade gift post once all my family has opened gifts, but these particular gifts are for people who don't use the interwebs that much (or do, but don't know where to find me!), so I feel safe posting them ahead of time.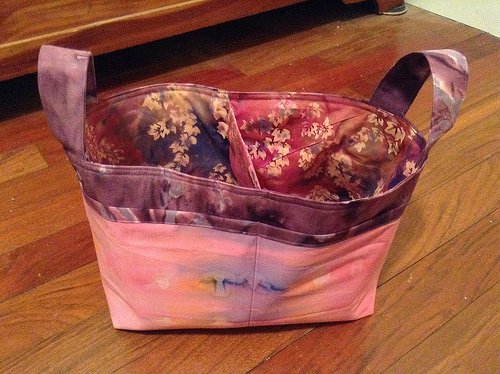 I made this Divided Basket Tote for a grandniece, who is into crafts and is taking sewing lessons and likes the color purple.  Yes, I'm not even 40 and I have a grandniece that's older than my kids. Families are weird, what can I say?
I tried to take a picture of it about a million times and this is the only one that doesn't have a cat sitting in front of it, half in it, behind it, or under it.  Apparently this particular tote is popular with cats, is what I'm saying.  Regardless, pattern is by Noodlehead, and I recommend it.
This fun little tablerunner was one of my first pins on Pinterest when I didn't know what the pattern was (or that it was a pattern - I thought it was a store-made thing).  Imagine my surprise when I see it as a spotlight pattern from Craftsy on Facebook this week! And it's made by Sweetwater, a favorite fabric designer of mine.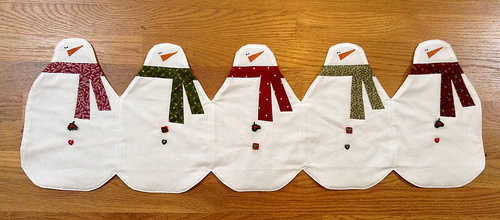 My version is a snowman short, mostly because I could only fit five snowman in my WOF for the ivory, and it's probably going to a quilt muggle in the Dirty Santa exchange with my husband's family.  I didn't feel like FMQing the snowman bodies and went with some festive buttons instead.  It's getting paired with a cake pop making kit for the exchange.