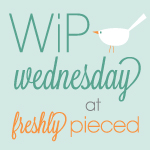 I am feeling a bit scattered this week, for good reasons that are not at all related to quilting.  There is good news for work (received today after much ANGRY CAPS LOCK repressed emails earlier in the week), and good news for my daughter at school, and two and a half weeks of vacation coming up for me & kids. Huzzah.
So while I'm working on Celtic Solstice and Scrapitude and my Tula Pink EPP project and the units for my parents' quilt, I'm throwing together a baby quilt, too.  I'm calling it Paparazetti right now as it's made from the waste HSTs of my Paparazzi quilt.
This is the center, and it will have a 2″ border of Snow and a teal border added to it to bring it to a decent size.  I should be able to finish up those borders at my sew-in tomorrow night and get it sandwiched and quilted this weekend, I think.
Special guest appearance by the cowboy boots I got in college, and have started wearing regularly in the past couple months. They remind me to kick some butt.