I'm out of town this week, so I'm mostly working on a massive set of blisters from walking from one end of the Vegas strip to another. Because I could. And today I get to stand up for nine hours at a trade show booth for my company. Yowza!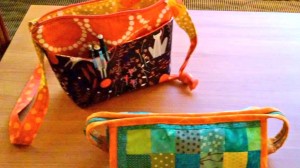 Of course I decided I needed a crossbody bag to take with me on this trip at the last minute as my usual purse was a bit too large, but I needed more than a wristlet.  I finally dipped into my stash of Catnip FQs and made this little bag with some Lizzy House Pearls as well.
It's sitting in the poorly cropped photo with my Sew Together bag since I brought a batch of EPP sections to work on. Row 5 got attached before I left, so these are for row 6 out of 13.