This is has been washed, dried, shown-off, and snuggled under, so it's practically lived an entire life since I finished it!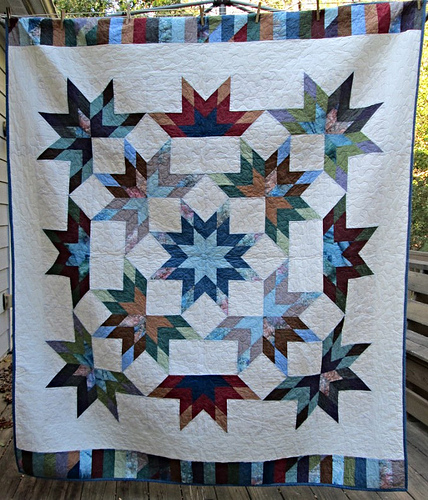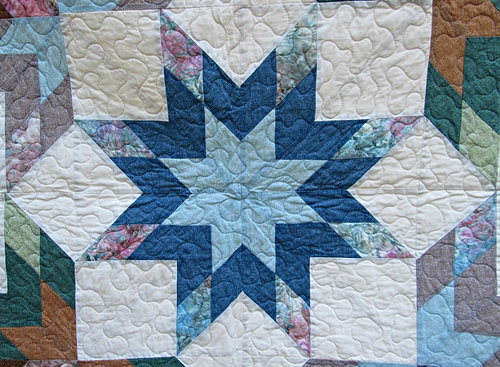 This pattern is Lone Starburst by Kimberly Einmo from her Jelly Roll Magic book.
The fabrics that read as solid are actually a burlap print; to add some interest I added in batiks in similar tones. The background is a Kona solid in Ivory.
Although the pattern uses a pre-cut jelly roll, there is still a fair amount of trimming that happens during block assembling, It's not an overwhelming amount, but worth mentioning if you think you're getting a pattern that is a sew-n-go rather than sew-n-trim-n-go.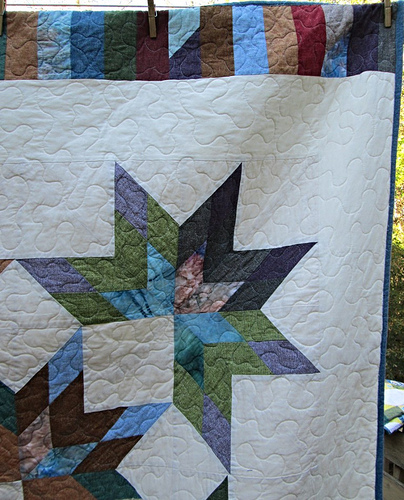 As mentioned, I prefer a non-square quilt, so I used all the trimmings from cutting the stars to make piano keys for a top and bottom border. When Kimberly was teaching the workshop, she said we should just throw away the small trimmings, but if you've read my blog for a while you know how I feel about throwing out usable scraps (unless it's a string - I hate strings!).
Since I used a minky on the back, I kept the quilting uncomplicated.  This is meant to be a snuggly quilt so it's actually a little bigger than a twin size so it can cover the entire couch.
Or one dog who's a bit of a quilt hog.