This week, I finished another baby quilt similar to the one from last week.  I also had to make a storage bag, and two small projects, so I'm still slowly inching up in usage.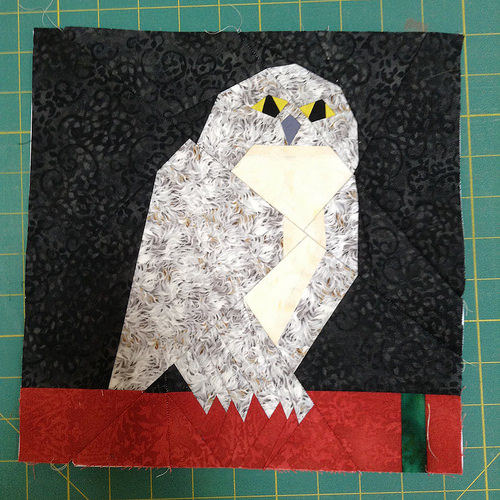 In additions to the stash, I bought fabric for the borders for my one-block wonder quilt since I didn't have enough of any one fabric that matched enough for the outer border.  When my parents visited, my mom brought me some fat quarters that I'll use for my class on Thursday (to make a quilt for them!).
This week I also stayed on top of the Project of Doom - here's my Hedwig block.
Used this Week: 5.25 yards

4 yd for  charity floral quilt
1 yd for quilt storage bag
0.25 yd for Beach Scene and glasses case

Used year to Date: 73.25 yards
Added this Week: 4 yards

3 yd for OBW border
1 yd in FQs from my mom

Net Used for 2015: 

14 yards

YTD Used for Charity: 43 yards (59% of total used)
See more Stash Reports at Patchwork Times!