Well, I'm back in the ol' quilting saddle again, and have been making some progress this week.  Not a ton of finishes, but I'm ramping up on some bigger projects and feeling relieved without the impending conference for work hanging over my head and all the submissions I'm entering for the East Cobb Quilters' Guild show submitted. Whew.
First up, the Saturday Sampler blocks from this month!  My Solid as a Rock block kit was missing a piece of fabric (I called the shop to let them know in case someone else had the same thing happen, and the nice woman working the phone sounded very worried, and then relieved that I was *not* ripping her a new one - I just wanted to give them a heads up!).  I fortunately have a number of solid green FQs from some Minecraft quilt dabbling so I just subbed in one from my stash.  I don't think I have enough contrast in tone between the dark and medium, but oh well. It's a design choice!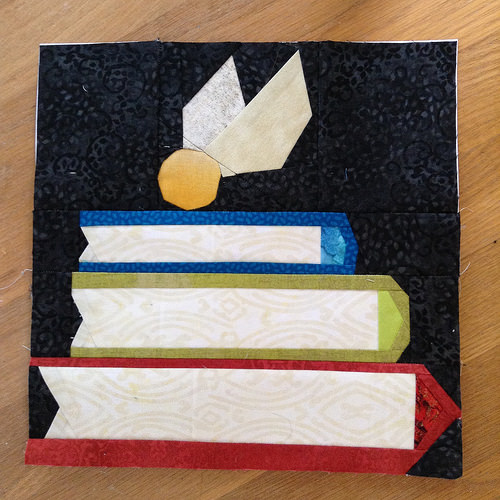 I was pleasantly surprised the double square-in-a-square for the center of the Bonnie and Camille came out okay! Usually I mess those up pretty good.  I'm also excited to start working on the applique center I'm designing for my B&C quilt.
I also caught up on my Harry Potter block for last week.  FYI, Jaye, the Project of Doom Bookshelf quilt was one run back in 2011, but some of the patterns have been updated for this version.  It was a popular series and I think Jen from SewHooked got a lot of requests to re-run it as a block-a-long.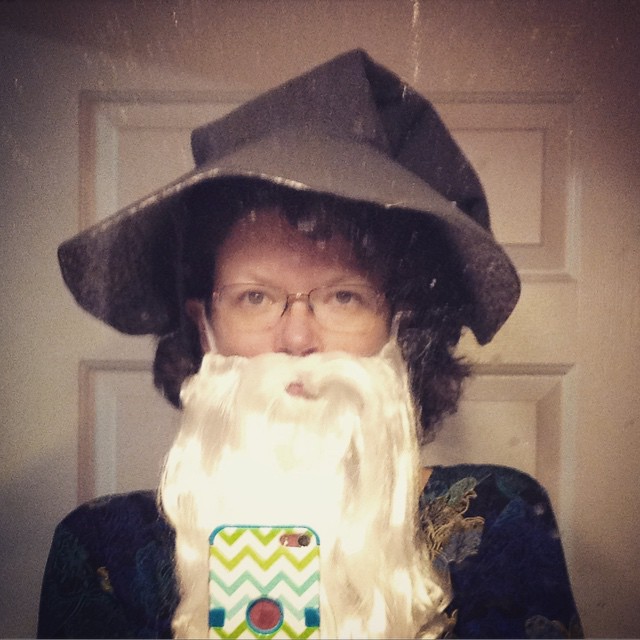 Last Friday was also Book Character Day at my kids' school, and my son wanted to be Gandalf from Lord of the Rings (he and my husband have been reading it together at night).  My daughter wanted to be Bucky Katt from the "Get Fuzzy" comic strip since she found the stash of collected comic strip books when I cleaned out my bookshelf in the bedroom. Anywho, for Gandalf, I use some fleece for the hat and some cotton for the lining.  For his robe I had a piece of grey suiting gifted to me from a friend's destash.  I'm pretty sure Gandalf would rock a subtle pinstripe given the chance. Of course I had to try on the hat and beard for quality control.
Used this Week: 2 yards

1 yd for  journal covers
0.5 yd for Molly's quilt top
0.5 yd for Gandalf hat

Used year to Date: 64 yards
Added this Week: 0 yards
Net Used for 2015: 

8.75 yards

YTD Used for Charity: 34 yards (53% of total used)
See more Stash Reports at Patchwork Times!