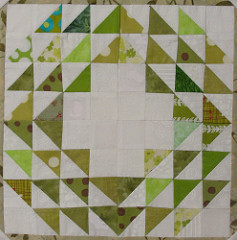 At last! I finally got around to 1) taking pictures and 2) posting them of my finished Twilter Round Robin quilt organized by Daisy.  I was in Group B with Molly, Sally, Allison, and Kathy.  My starting block was comprised of buffalo bits leftover from the Silver Star quilt I made in 2013 - tiny lime green and white HSTs.
I provided some additional lime green, teal and orange fabric, along with some white on white Eric Carle animal print fabric for the background. And here's what I got back after everyone else worked their magic!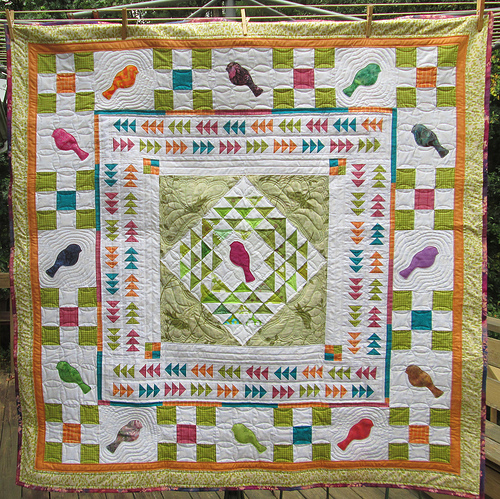 Molly set my block on point with a green batik with bird print on it which was some nice foreshadowing and inspiration for Sally's eventual round.  Because of the bird print, I decided the quilt needed some feathers quilting into it.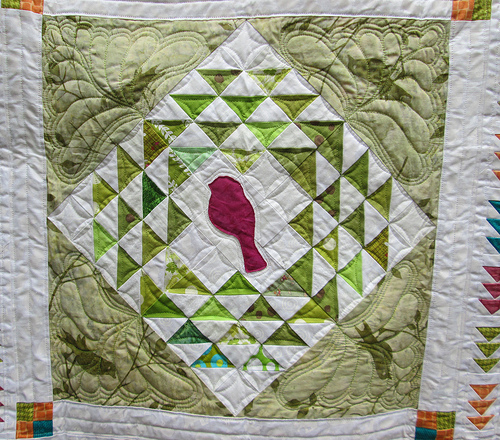 I'm not sure if Molly or Allison did the next round of white with the small corner four patches on it, but then Allison did a LOT of tiny flying geese, which are delightful, and added a much needed pop of hot pink to the quilt.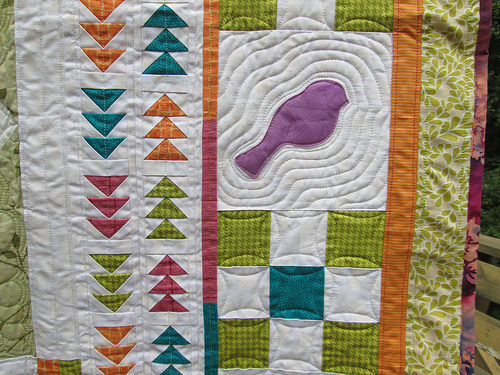 Sally added some nine patches and fun bird applique.  I alternated quilting the birds with either the same orange peel design as the nine patches or an echo of the bird shape. Kathy finished it off nicely with a thin orange and fatter green outer border.
Sally was also kind enough to include some additional birds, so I picked a hot pink one and stuck it in the middle of my original block to really round it out and tie it all together.
As a special heads up for you guys, I talk more about the Round Robin experience on the next episode of The Stitch, which goes up tomorrow!