Remember last time I listened to my brain? After a whirlwind week last week where I plodded on small projects, the logical part of my brain knew I needed to start cutting for either the Labryinth quilt for my son's bed, or Miss Jingle. However, (ugh - just remembered my 10th grade English teacher telling us that you're never supposed to use "however" to begin a sentence), the other parts of my brain did not want to cooperate.  After disregarding the 40% logical part, the 20% that wasn't focused on craving chocolate was thinking back to organizing my sewing room over the weekend and the glaring fabric that has no purpose in my stash.
Namely, chicken fabric.
My brain: Cluck

Me: No. Mazes. Cardinals.

My brain (whining): But it's for chariteeeeeee…

Me: Ugh. Yes, but we already have 5 tops for Jenny, and she's going to think I'm nuts.

My brain: BOCK-BOCK-BOCK-BA-GOCK!!

Me: Fine. E-I-E-I-O.
Yes, I had at least 3 different chicken fabrics. I actually had a fourth in tans, but it didn't really fit in with the others.
The pattern is called "Topsy Turvey" and it's one of those "3 yards of fabric makes a quilt top" patterns from Fabric Cafe.  It's about 44×51″ finished, so a nice lap size.
Anyway, that was a WIP. And of course Nina helped. I suppose she hasn't yet learned not to sit on chicken wire (fabric).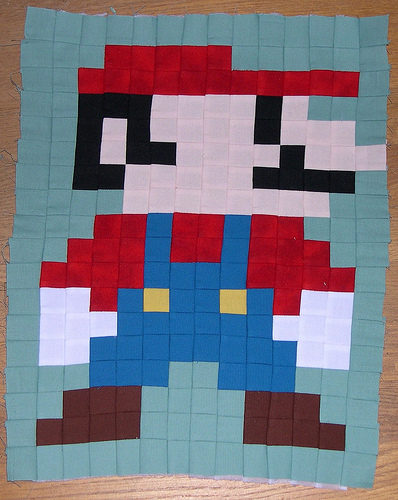 Anyway, I'm also working on two other nap mats made out of orphan HSTs, three pillowcases, and a little thing out of this fun thing.