If you are reading this right when I publish it, I'm running a 5k right now. If you're reading it later, then I'm probably sitting on my couch with no pants on. You're welcome! Pass the brain bleach!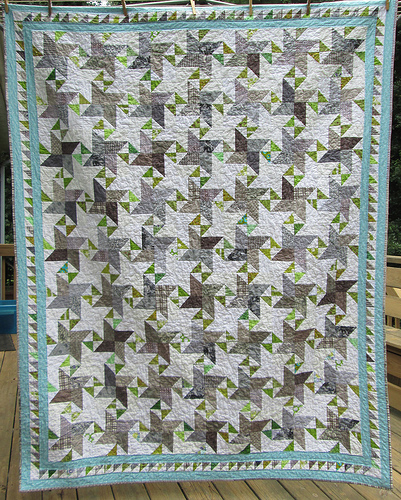 I'm very pleased with how Silver Star turned out.  I had a bit of fear that the borders weren't wide enough and thus not add enough "weight" to the outside of the quilt, but ultimately I think they work.  I could have done a double or even triple row of those waste HSTs, but that felt like I would be trying too hard.
The pattern is Star Struck by Bonnie Hunter, available for free on her website.  I used a 7×9 block layout with 6 inches of borders and the finished quilt is 65×81″.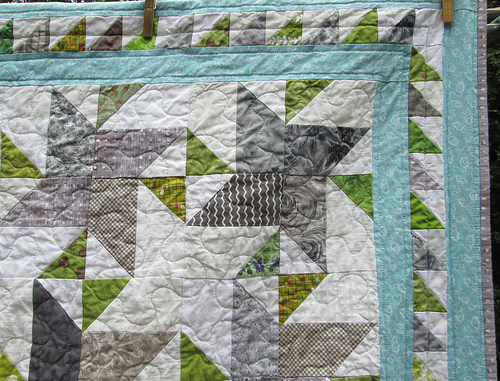 I really love the aqua print, too, since it has tiny mice on it and the color strikes the balance between the the hint of green and the coolness of the grays.
I ended up piecing more of the HSTs in a row for the back of the quilt which uses a large piece of gray polka dot and a piece of cat face fabric that really engages a lot of people, but I find sort of creepy.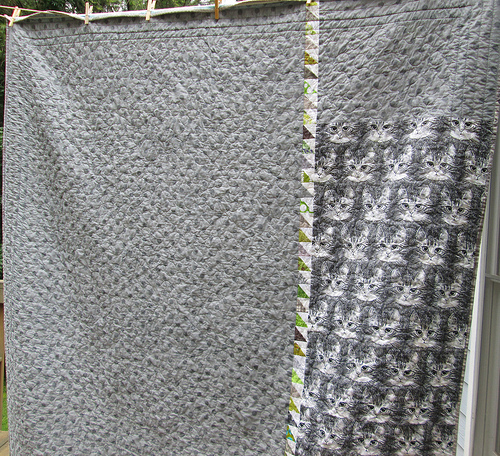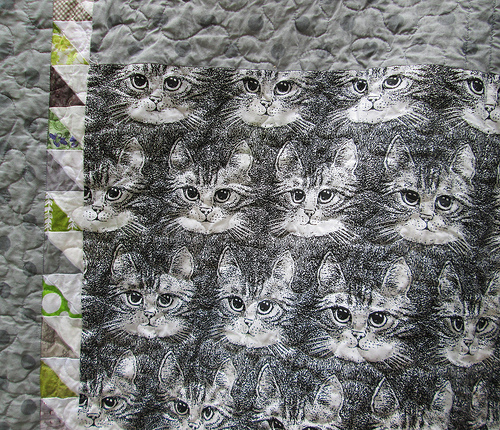 I have no idea how old it is, or where it came from since I got it through a stash donation from a friend. It's been sitting in my stash for a couple years, with these creepy cats judging me every time I walked by the shelf.
It's probably not a selling point that these cats full-on blank stare into your soul and judge you. But then again, I don't have to write the copy for the auction catalog anymore.  If you'd like a chance to bid on the quilt, you'll have to attend the 25th Anniversary Gala for Good Mews on November 16th.  Sorry, no bids by proxy since I can't attend the event this year myself.