I put the final binding stitches on this king monster sized quilt (exact measurements are eleventy frajillion by a bajillion sixteenths or something) the other night, and it took two days to wash and get it dried. And I don't think I've found all the quilting threads and tied them off and hidden them yet. I find more threads every time I look at it! But it's done: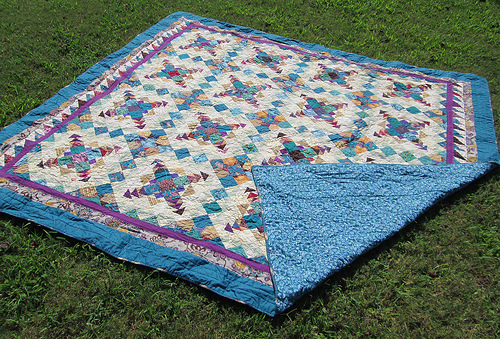 This is Bonnie Hunter's Easy Street Mystery pattern from 2012, soon to be available in her new book.  I added 3 1/2 borders to it to bring it up to king size. A 1 1/2″ skinny purple border, a HST border only on the sides, a fun print border all the way around, and a teal border to finish off the top.  The binding is more of the crazy sheep print that started this whole color scheme.
After I finished the first Easy Street quilt I did (a Christmas gift for my in-laws), I thought I might want to do one for myself.  I was not sure, however, what color scheme to go with.
I kept thinking back to these pieces of fabric I got through an inherited stash the year before. This crazy sheep fabric with the hot pink spinning wheels and weird purple knitting accessories. Rather ugly, in my opinion, but a guild class on color taught by my friend Lynn inspired me to pull out other fabrics from my stash to see if I could make a beautiful quilt inspired by this ugly fabric.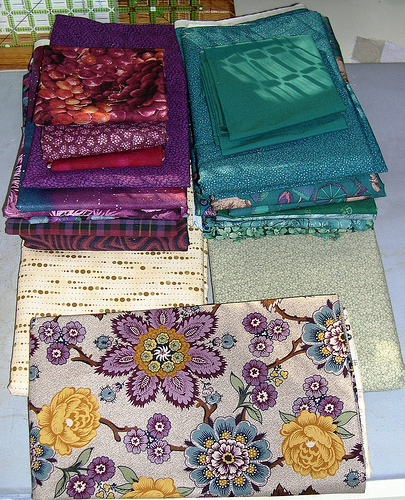 Here's the others I pulled out - lots of rich purples and teals. A fun print for a border. Creams for the backgrounds, and a washed out green for the constant in the pattern. As the blocks took shape, I really fell in love with the color combination.
I still have some of the original sheep fabric left (I think I started with 3-4 yards of it!), so I think I'll make a storage bag for the quilt out of it.  You can see the sheep throughout the quilt in various 3 1/2″ squares, and in glimpses on the binding.
I really think I made an ugly fabric turn out to be good looking after all.