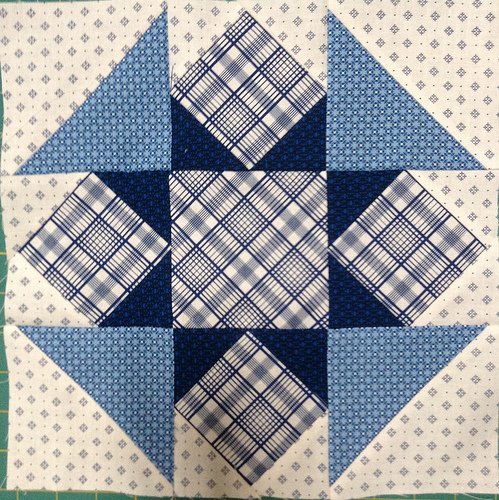 Another Saturday, another block pick up!  Let's talk Saturday Soiree first, because that one didn't have any issues.
HSTs. Square in a squares. Etc. Went together smoothly, although the square in a square method used seems wasteful to me, but it made sense to do it their way given the directional nature of the plaid.
Now, Mum Medallion.  The patterns are written with a particular specialty ruler in mind, but since I made the decision not to buy it, I have to live with the consequences of sometimes having to make it without the exact directions. Sometimes the shop provides alternate directions, but their staff was particularly busy this month so we didn't get that. As a result, I had to wing one of the construction areas and ended up mis-cutting the mulberry colored fabric too small, making the brown "corner" in the center part too big. That had a ripple effect of not lining up with the other HSTs in the corners, so I turned those around and got this: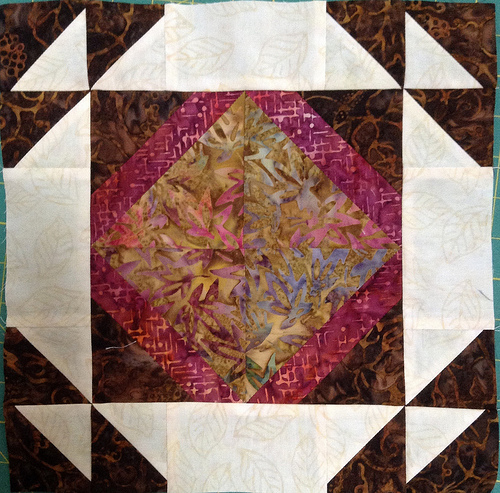 It's very…. square looking. Not ideal, but I thought I could live with it.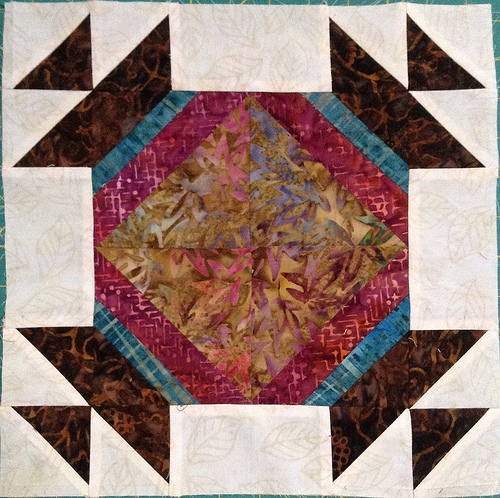 Then I slept on it and decided I couldn't live with it, so I took it apart and inserted this teal fabric to bring it up to the right size, and trimmed down the brown on the center so it lined up with the corner HSTs and then rotated those the proper way and VOILA.
And now I'm much happier with it.