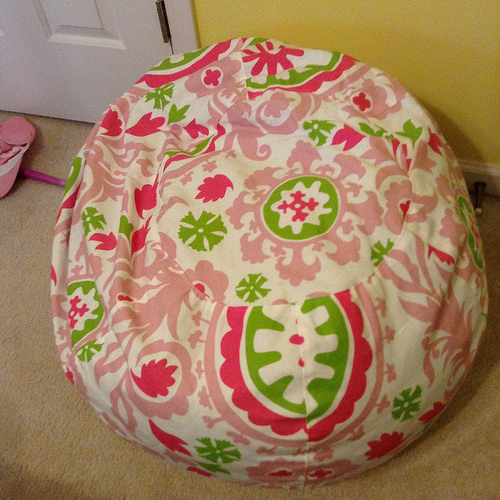 One charity quilt finish this week, plus a pillow cover for my parents. I need to get the quilt out of the dryer (in the daylight) to take pictures of it, but in the mean time, here is a picture of the beanbag finish from last week. Yes, it looks like a lump. Or a beanbag.
I used this tutorial for it, but did have to tweak it a bit for the amount of available fabric I had in the outer home dec weight.
I also had to buy some muslin for my feather quilting class with Sharon Schamber next week! More excited about the class than buying muslin, but there you are.  I'm not sure what all I'll be able to finish this week since my kids are spending the week at their grandparents and I have grand plans to paint the kitchen, but I do have two more charity quilts in progress - one is a blue/tan for Quilts of Valor and the other is the auction quilt for Good Mews.
Used this Week: 4.5 yards

4 yd for Wolf Bricks charity quilt
0.5 yd for parent's pillow

Used year to Date: 212 yards
Added this Week: 2 yards

2 yd muslin for class with Sharon Schamber (squee!)

Net Used for 2014: 138.75 yards
YTD Used for Charity: 72 yards (34% of total used)
See more stash reports at Patchwork Times!