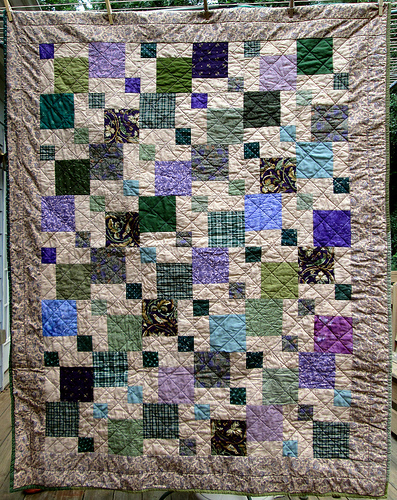 Last week I finished my demo quilts for the Disappear Nine Patch versions I did for my guild, bringing my total of charitable quilts for the year to nine. Plus one under the needle to be quilted.  Woohoo!
The first one is "D9P Classic", which I call a "wiggle" layout since the whole squares that don't get sliced look like they are lined up in wiggly lines.
In the two D9P Classic layouts, I did straight line quilting in the center and the border. For whatever reason, it looks super wrinkly in the border on this purple/green one. I am choosing to blame the humidity for that.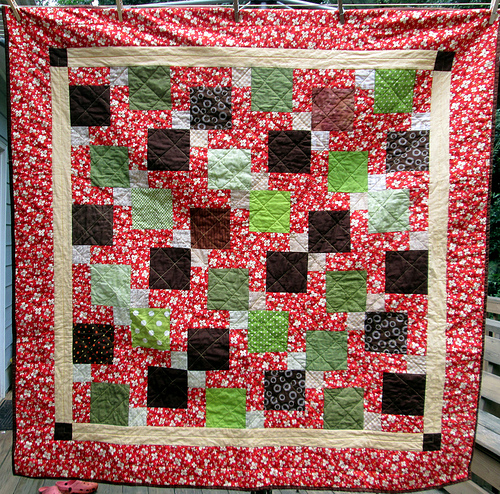 The second D9P Classic layout I call the "Windmill" layout, where the sliced red-orange bits come together like a windmill.
Depending on the values you use, the windmill either recedes or pops against the non-sliced squares.
For the final layout, I used a new tutorial I found while researching D9P tutorials.  It does diagonal cuts on the nine patches, and then mixes them up.  It does require you to mix up pieces from at least two blocks to make any difference as there's no rotation after slicing, just piecing the block back to together.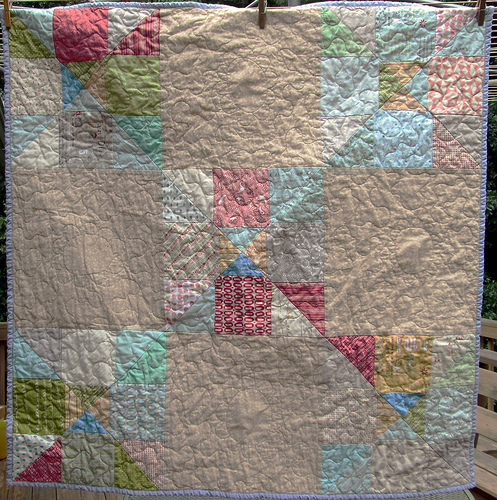 I used a charm pack for this one so the values are all pretty similar, making it hard to see how the blocks actually look. I could also blame the humidity here, but aside from my Very Large Hair that almost made it into the picture as a shadow, I suspect I've run the course on that excuse.
This one got FMQ'ed with some flowers in the horizontal and vertical "solid" blocks and a meander in the rest of the quilt.
They've all been folded up and stored, hopefully away from cat hair, until it's time to donate them!