One finish to report this week as I just put the final binding stitch on my panel challenge entry! And a not-quite-finish as I log some usage for the Twilter Round Robin that I'm shipping out shortly.  I'll have pictures of the panel challenge posted closer to my guild meeting (Oct 5), but if you attend the East Cobb Quilters Guild night meeting, you'll get to see it then in a sneak peek!  I feel like with all the quilting in it, it would have logged more thread than fabric.  Thank goodness I'm not trying to track that!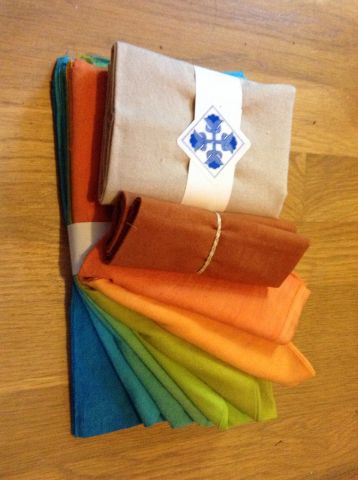 Although I just used one panel for a challenge, I got drawn into purchasing another panel at the AQS show in Chattanooga on Saturday.  One booth had a panel of cats pictures with a rescue theme, which is perfect for making fabric postcards for the Good Mews holiday market.  I also dove in and bought a FQ selection from Cherrywood fabrics because of the yummy colors.
The darker orange and tan on top are extra ones to round for a project the bundle is inspiring me to do. You'll note, of course that this bundle matches: 1) my new purse which also matches a) Nina and b) my new kitchen color. So, yes, I'm in a turquoise & orange era. And I might be doing a Nina portrait quilt. And while I was planning this, I sort of got Lynn to get a bundle as well that matches her dog Josie.
And then I talked Lynn into getting a backpack pattern and kit. And we both talked each other into some patterns for various baskets and bags. And then I test drove some long-arms. More on that on the next podcast!
Used this Week: 2.5 yards

2 yd for panel challenge
0.5 yd for Twilter Round Robin

Used year to Date: 257.25 yards
Added this Week: 2.75 yards

2.25 yd of Cherrywood hand-dyed fabric
0.5 yd for Cat Rescue panel

Net Used for 2014: 168.25 yards
YTD Used for Charity: 96 yards (38% of total used)
See more Stash Reports at Patchwork Times!