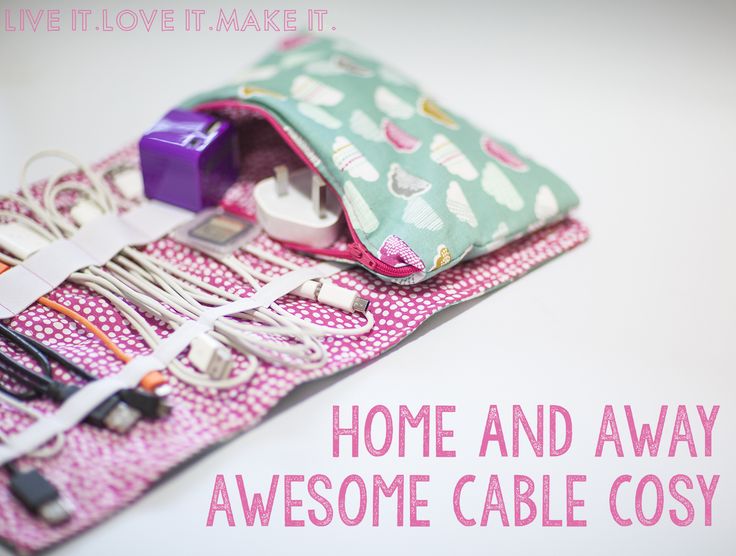 I've been noodling on a better way to organize the cords and electronic detritus associated with various iPods, phones, laptops, etc. when I travel, and saw this tutorial on Pinterest a month or so ago.
I like the idea: pouch for large bits plus elastic bands to tuck cords into. I wasn't too fond of how the pouch actually attached to the rest, though, since it's just stuck on with snaps.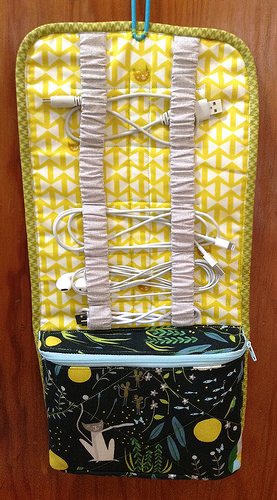 After I took the Sew Sturdy Travel Organizers class on Craftsy, I knew I had the answer to the zipper pouch issue, so here's what I ended up with.
I jazzed up the elastic bands by covering them with fabric. My zipper pouch is attached to the organizer itself the same way as my hanging cosmetic organizer.
It did take a bit of experimenting with the size, and I maybe should have the pouch a bit smaller. Alas, it works regardless!
I used a slider I had in the button box for the closure, likely an inheritance from Grama Eddie's collection, and added a hair elastic to the top so I could hang it up on my desk. This means I can hold all the bits and cords that Nina likes to shove off the desk when she's feeling frisky (read: ALL THE TIME).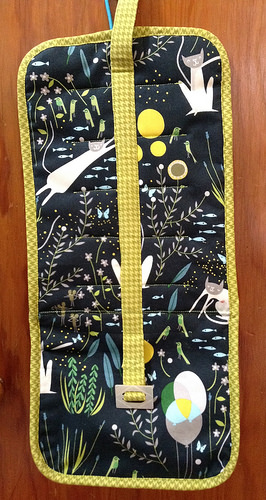 Unfurled, it measures 9 x 18″, and folded up it's 9 x 9″ or so.
I used some my precious Catnap fabric to make since I'm trying to be better about using fabric I like rather than any old piece. Imagine me stroking the fat quarters and muttering "My preciousssss…." before cutting into them; it's a pretty accurate visual.