Hallelujah and pass the Tylenol! It's Thanksgiving break.  I took today as an extra day off, primarily under the guise of "making cheesecake", which is about 15 minutes of prep and 3 hours of blissful-hands-off baking.  Secretly I just wanted to tell everyone at work to SHOVE IT, which would have been more effective if everyone hadn't taken the whole week off while I worked Monday & Tuesday like a schlub. Also, my boss is in Canada so he has to attend to any priority items that pop up this week, which is pretty much a joke since true Marketing Emergencies are pretty rare unless an exec has a bug in their britches.
Anywho, today I ran around to a bunch of errands with my daughter, then settled in for making Oreo cheesecake, hermit bars, banana bread, apple bread, peanut brittle, haystack cookies, and dinner at some point.  In the past few days, I've not only finished my two organizers, but also these goodies: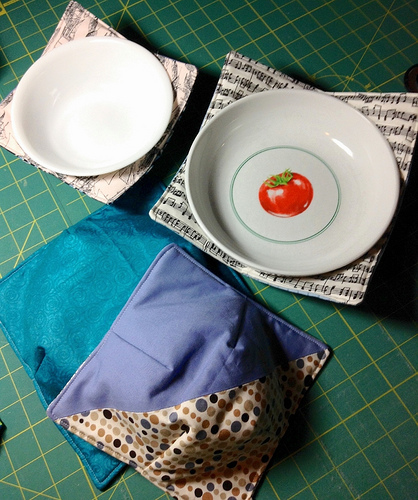 Soup bowl cozies! To prevent burning one's fingers while handling hot soup bowls out of the microwave. I made two each of two sizes, which we lovingly refer to as "bachelor size" and "regular size" at our house.
Alas, a poor quality photo due to late night picture taking!
I made sure to use 100% cotton batting and thread so there was zero chance of polyester anything melting in the microwave.
The tutorial was pretty easy to follow, although I did trim my darts to reduce bulk. I just used some 10″ squares from my scrap stash and wasn't too picky about matching, so all four look different. And don't really match my kitchen. The inside of the drawer I stuck them in doesn't seem to care, though.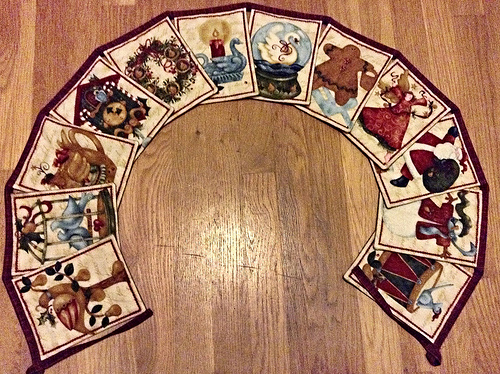 Also finished: Christmas Bunting!
This started as a Nancy Halverson 12 Days of Christmas flannel panel that I chopped into individual pieces.  I FMQed around the pictures with monofilament thread while they were backed with batting, and then backed with them various burgundy fabric. Then I busted out the bias tape maker and attached them all (in order from Days 1 - 12 because of OCD reasons), and as soon as Thanksgiving is over I hanging it over my fireplace.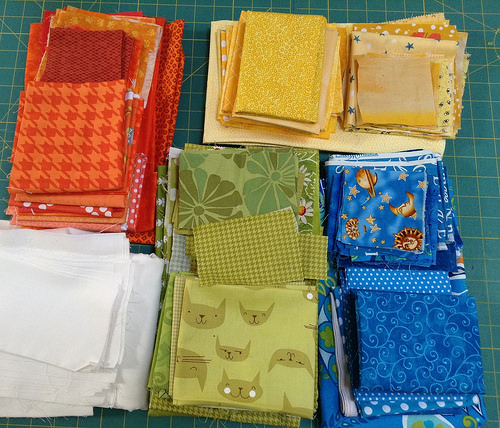 In other exciting news: The Grand Illusion Mystery starts on Friday! And don't forgot to join us on twitter and elsewhere for the Black Friday Sew In!