Well, I'm almost done with my seekrit quilt, which will probably be revealed in the next couple weeks once I get the go-ahead from the pattern designer.  In the mean time, Jett is acting as my censor.
I've also been cutting for a NEW mystery project (same pattern designer), and another Mystery project, courtesy of Sandy's guildmate, which is called Scrapitude. And after I do the test pattern for this next quilt, I'll work on my Dresden Plates and a test bag.
In other crafty news, I finished the first class pumpkin for my kids' school auction! Each class gets a sucker volunteer to decorate a fauxkin.  This particular one is for my daughter's 2nd grade class. For those lucky enough to have no idea what this it, it's a Creeper from Minecraft.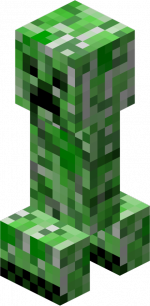 For reference, here's what the Creeper looks like in the game. Basically, I painted a lot of green squares to mimic the 8-bit graphics. I had tried to use a template for the squares, but pumpkins are not exactly flat so I ended up free-handing the squares.  The eyes and mouth are backed by an old piece of x-ray film (a chest x-ray, if you care - good news! I didn't have pneumonia!), and there's a flickery LED candle inside.  As I told the teacher this morning when I took it to the classroom, a pumpkin needs a light inside it to be a jack-o-lantern, otherwise, it's just a gourd.