When I was a child, I wanted nothing more than to craft friends that wouldn't judge me or stuff my math book with wet Goldfish crackers, or buy me a crappy roll of Lifesavers for a Christmas present when everyone else in the group got charm bracelets. I also insisted on wearing lavender for a entire year, to my mother's devilment, and I'm not entirely sure that my mother shouldn't have drunken more alcohol at the time.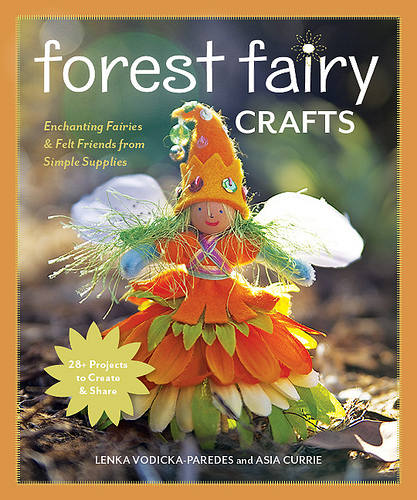 I suppose none of that is germane except for the desire to make my own friends.  And because my mother had kept her wits about her, I was not left to an unbridled crafting free-for-all of hot glue and paint. Well, unless Grama Eddie was visiting and she had us making beads out of wallpaper and Barbie hats by melting Styrofoam cups in the oven.  I have a feeling that the book Forest Fairy Crafts would be solidly in Grama Eddie's wheelhouse.
I first heard of the book earlier in the year when a guildmate showed off a fairy she had made with her granddaughter using the book, and recommended it.  It's published by Fun Stitch Studio, a new-ish imprint for C&T Publishing that geared for independent childhood crafting (or "Parent Free" crafting).  We've had good luck with one of the other Fun Stitch titles, A Kid's Guide to Sewing, so I was interested in seeing a more craft-focused and less sewing-focused title.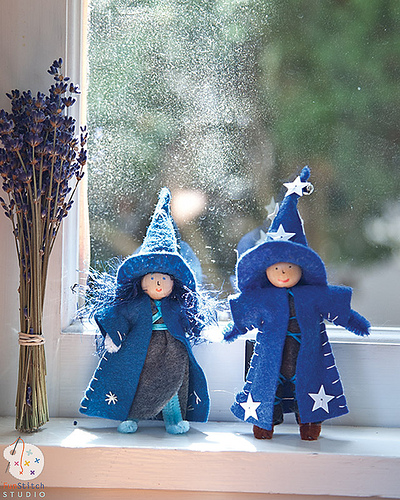 The fairies included range from birthday fairies and angel fairies to something a little more in my wheelhouse - zombies and wizards (seen to the left). Although I dispute the claim that zombie fairies eat sugar cookies (clearly they eat fairy brains - duh!), I appreciate the changes in aesthetic that goes with each type of fairy; the zombies are slightly messier in darker tones and don't have flower parts.
I also appreciate that none of the fairies look exactly perfect; they are clearly handmade with hand-drawn faces and intentionally visible stitching, something that I think kids can appreciate when comparing their own fairies to those in the book.  I'm sure there are 8 year olds who can do a perfect invisible ladder stitch, but the chunky threads and visible stitches shown in the book are much more attainable for the younger crafter.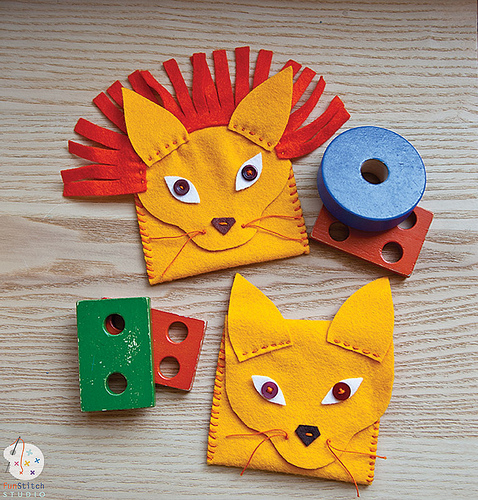 My own daughter was particularly interested in the "pockets" later in the book that are animal shaped and can hold small treasures like the rocks and jewels she seems to find everywhere.
One of the other things I like about the book is the "Notes to Adults" at the back. Perhaps other adults have more intuition about working with children, but given my struggles with other children as a child (see aforementioned wet Goldfish crackers in math book example), I appreciated the tips on what areas to help the kids with, and where to let go.
I can see this as a great gifting opportunity along with a "kit" of materials that includes pipe cleaners, wooden beads for the heads, and an assortment of felt and embroidery floss. Forest Fairy Crafts is available at major bookstores and online, or directly from C&T Publishing.