I'm throwing together a collection of my quilts to show tomorrow at the Artists' Career Day at my kids' school.  I think I'm the only quilter, and although I don't do it professionally (although have taken commissions here and there), I'm happy to talk about it and the joy of making something with your own two hands.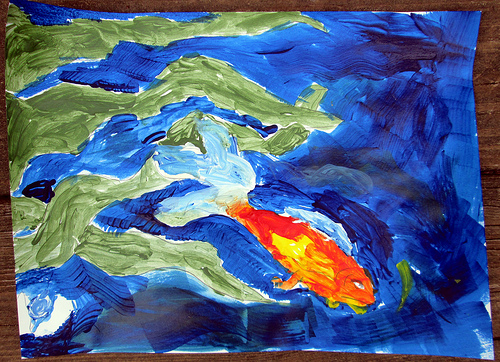 A lot of my quilts are blanket-type things to be used on beds or to cuddle with on the couch, but I wanted to up the representation of more art-y type quilts.  I had been eying this painting my daughter did in her first art class a couple months ago (she does art in school, but we added an extra one outside of school because she enjoys it, and doesn't do any sports like her brother).
I have a lot of respect for a fish that can maintain that level of anger while swimming in a peaceful ocean amongst the kelp fronds. That's a real commitment to an emotion. So I did my own take on it as a small art quilt: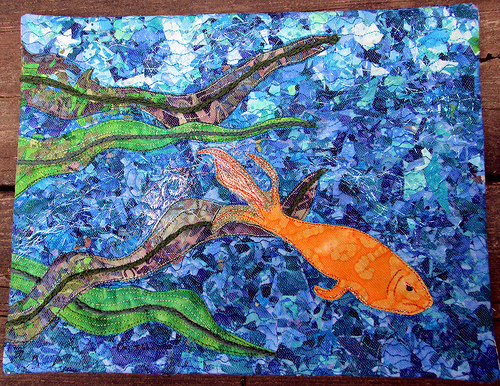 I used a piece of blue batik for the base, and fused a piece of fusible interfacing on top of it. I then sprinkled small snippets of various blue batiks to give a little more texture to the water.  The fronds and fish are backed are fusible applique pieces as well, and the entire piece is covered with a single layer of tulle to hold it together while stitching.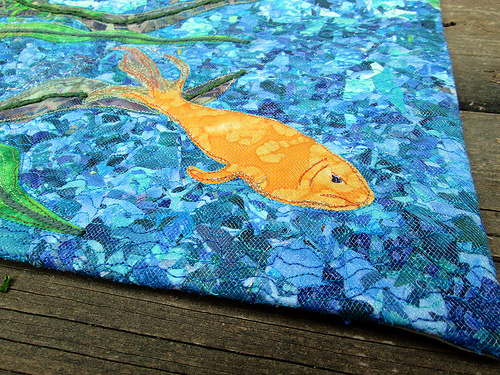 You can see the tulle at this angle a little better.  Some of the stitching on the fish and plants was done only on the background as thread painting, but I did additional stitching after adding a layer of batting and muslin backing for more dimension.  The center stems of the fronds are actually on top of the tulle.
I threw in some Angelina fibers for good measure as I thought the grumpy fish needed a little more flash.
My ultimate goal is to get the original painting and the quilt mounted next to each other, but I'm not quite sure how to do that yet. In the mean time, I'm going to enjoy his commitment to anger at my desk!