I managed to pull off finishing the Swoon quilt on Saturday, and have gotten back in the saddle on my Broken Lone Star quilt today.  I've finished 8 of the 24 outer blades, and have started on the final 16.  I also decided I was not happy with my choice of brown for the background fabric despite already cutting out the pieces, so I found a very soft dove gray that's somewhere between the Grunge print from Moda and the linen print from Kaufman; I think it will really set off the rainbow colors in the star.
In addition to the gray, I got the final finishing kit for Saturday Soiree and the final block for the quilt. Once I get the block made this week, I can get the top put together.  I'm super excited for it to be done for my daughter's bed, as blue is her favorite color.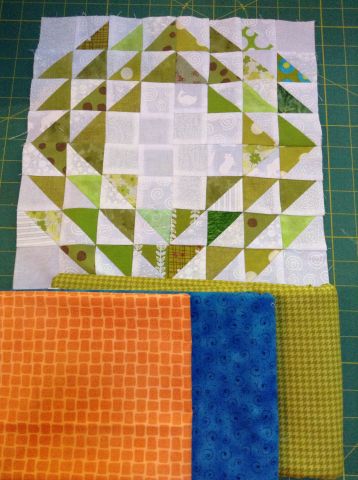 I'm also counting the 5 yards of fabric I'm sending out with my Round Robin block as "used".  Whatever I get back at the end of the process I'll check back into my stash, I guess, so since I usually only count fabric that's in a finished item.  Here's a sneak peek of my center block and the fabrics I'm sending along for guidance (plus a couple yards of white on white background fabric).
Used this Week: 15 yards

10 yd for Swoon quilt
5 yd for Round Robin supplies

Used year to Date: 157 yards
Added this Week: 6 yards

3 yd of gray for background for the Broken Lone Star Quilt
3 yd for borders & binding for Saturday Soiree

Net Used for 2014: 87.25 yards
YTD Used for Charity: 42.25 yards (28% of total used)
See more stash reports at Patchwork Times!