Rather than show what I'm sewing right now (HINT: not a durn thing, thanks to a lot of activity at work!), I thought I'd show a thing I recently finished that got swapped at my guild meeting on Sunday.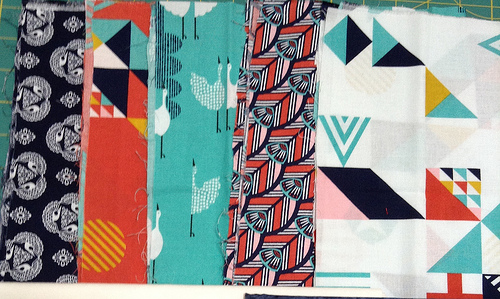 Our guild did a Brown Bag challenge where we swapped 5 fat quarters anonymously and could add up to two fabrics of our to make anything we'd like for the owners of the 5 FQs.  I received these five on the right to work with.
They are waaaaay more modern than what I usually work with, so after an initial panic, I turned them into these two 18″ blocks using a tutorial from Double Nickel Quilts (it's a slightly smaller version of the Swoon block that relies on charm squares instead of FQs).  I added some Kona Snow to make the blocks, and then turned them a big old totebag with a interior zipper pocket with the addition of another linen-y teal fabric.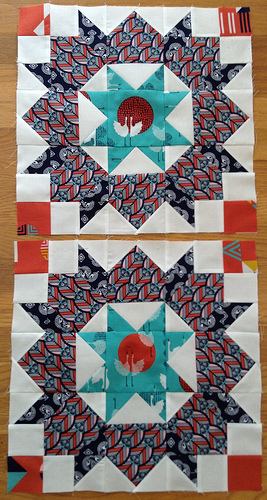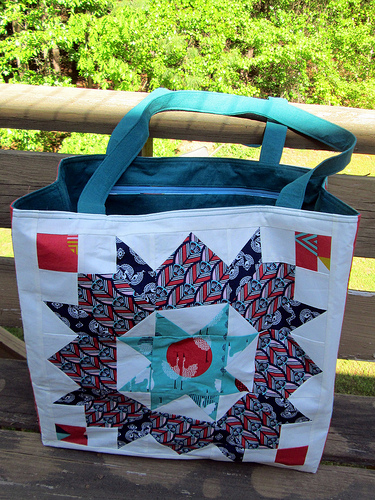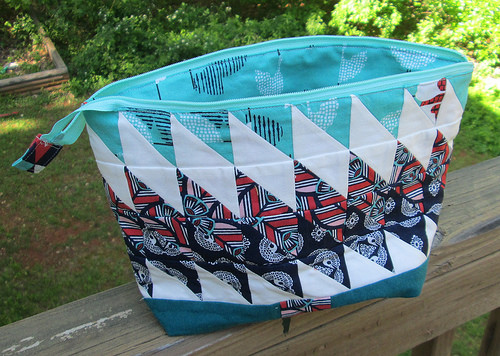 In making the blocks, you get some leftover HSTs, so I turned those into a coordinating zipper pouch.
I, being a big old enthusiastic nerd, got mine done a couple weeks after we received the fabric, which was several months ahead of the due date of the May 4th meeting. I've had to sit on it (and keep the cats from sitting in it) for that long. I was mostly successful in that after I figured out I need to keep it in a cabinet (until Nina figured out how to open said cabinet).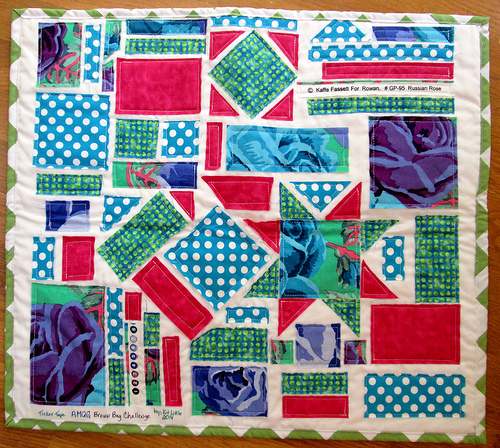 And I got my thingy back from the Kit, who made me a ticker tape wallhanging! My favorite part is how all the little pieces fit together like a jigsaw puzzle, which really speaks to the part of my soul that loves puzzles and fitting things in the spot where they belong. Thank you, Kit!