It felt like this week was Block Week between the double Harry Potter block, plus the latest HP block, and two Saturday Samplers.  I had also pondered in my podcast this how to account for some scraps I had received, and I ended up keeping some for myself and taking the rest to my guild meeting to accompany a lecture on improve piecing. First up, the Harry Potter blocks:
On the Harry Potter Sorting Hat block, I of course opted to include Crookshanks.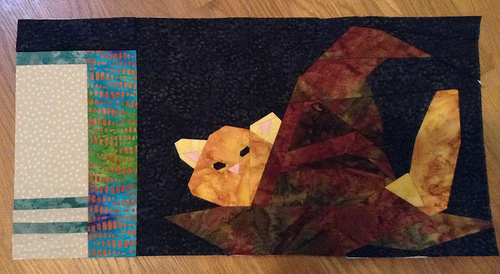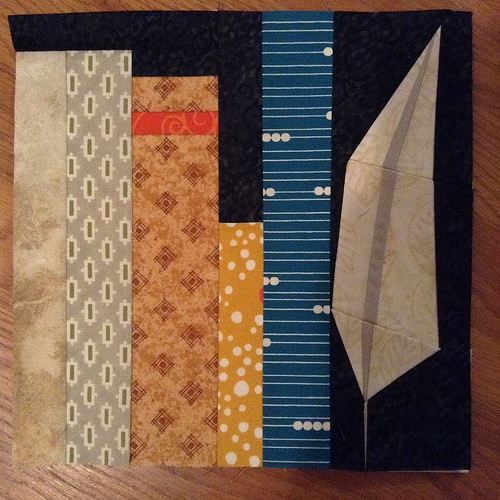 For Saturday Sampler, we have our next in Solid as a Rock (Teal! Hooray!), and 1st in the new program, Sparkling Gems.  The Sparkling Gems blocks are all mostly batiks with one piece of "cotton" (the black print).
I had to laugh as I finished mine because they finish at 15″, compared to previous programs that finish at 12″. I'm sure that the shop will get a call from at least one disgruntled quilter with nothing better to do than complain that the 15″ block won't fit in their 12″ container without folding.
I also finished one quilt, the teal and orange I showed last week.
Used this Week: 3.75 yards

3.25 yd for Teal & Orange quilt
0.5 yd for Ceremonial Ribbon

Used year to Date: 134.75 yards
Added this Week: 0.25 yards

0.25 yd for FQ won at guild meeting
0.25 yd for scrap intake

Net Used for 2015: 

63.5 yards

YTD Used for Charity: 69 yards (51% of total used)
See more Stash Reports at Patchwork Times!