I've been working through some extra blocks for my Harry Potter bookshelf quilt. I saw another top that had a Nimbus 2000 broom leaning against the bookcase, and found the pattern for it on the Fandom in Stitches.  Here is Nina considering a career in quidditch after seeing my finished block.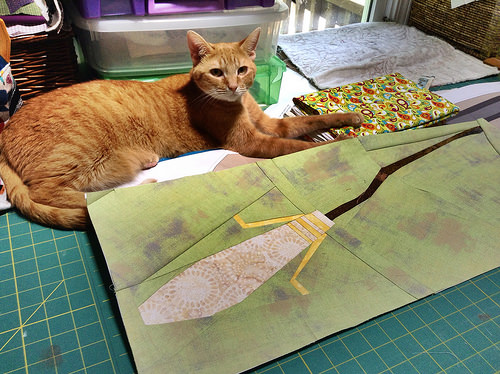 I'm also making the Sword of Gryffindor, but it's 58″ wide and the bookshelf (as finished in 2011) is only 52″ wide, so not sure it can go on top on it as I originally intended.  Per Charlotte's suggestion, it might end up as a MEGA LABEL on the back. I think Jennifer is presenting an alternate bookshelf layout in her final version in a couple weeks, so it might be able to go on top anyway (or I need to add 6″ of width to every shelf on the quilt so it'll fit!).
See more WIPs at Lee's blog.