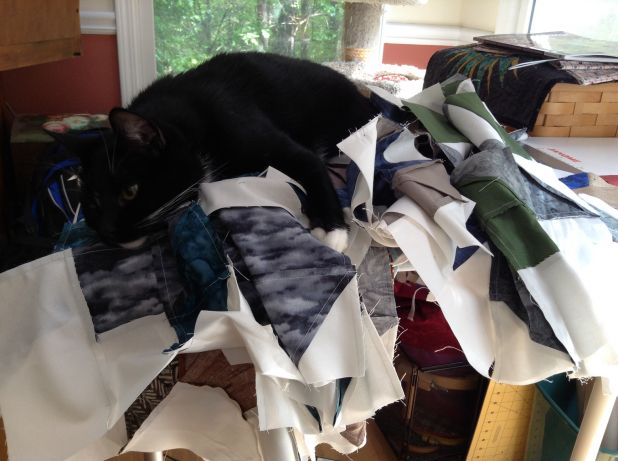 No logged usage this week, although there has been progress on a couple things.  I've got all  9 of the Swoon blocks pieced, with no small thanks to Jett who held them down for me in between stitching.*
*Very small thanks, indeed.
I also put together a little art piece to show at the Arts Festival I'm presenting at Thursday at my kids' school, but no pics of that until it's done. It needs thread painting and stitching, and right now just looks like a blob. Or a couple blobs.
I had a gift certificate burning a hole in my pocket, so I went ahead and spent it on some fabric for the quilt for the Good Mews auction this year. I found a cute cat print to use as a border and some coordinating FQs
Used this Week: 0 yards
Used year to Date: 142 yards
Added this Week: 6 yards
Net Used for 2014: 78.25 yards
YTD Used for Charity: 42.25 yards (30% of total used)
See more stash reports at Patchwork Times!