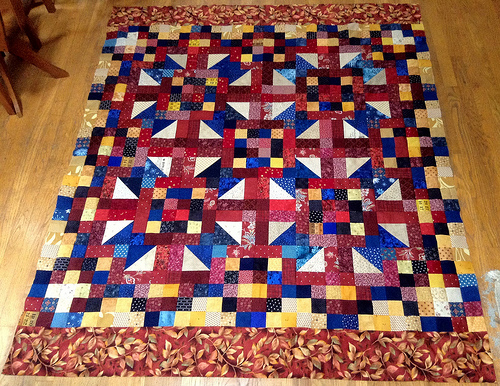 Big weekend for sewing around here with my day retreat yesterday!  I managed to finish two tops: one for Quilts of Valor, and Saturday Soiree, for my daughter's bed.  The Quilt of Valor is to the right - it measures around 60 x 72″.  I've still got to piece a back for it and make the label for it.
I didn't get a picture of my Saturday Soiree complete top as I was holding it up at retreat and couldn't take a picture of it myself, and there's not enough floor space open in my house currently due to a surplus of train track villages laid out in the living room. BUT! It's gorgeous so you'll have to trust me on that until I get it quilted and show pictures of the finished quilt. It's a generous full/queen size, I think.
I've also been working on my disappearing nine-patch demo pieces (20 patches complete for one demo, still need to finish cutting for the other demo), and got all the HSTs done for the donation quilt I'm making out of those brown triangles I had cut.  The center is almost complete for that quilt. Whew!
My one yard of usage is for a gift I made as part of a bridal shower gift, and I'll show pictures of that item after the shower.
Used this Week: 1 yards

1 yd for bridal shower gift

Used year to Date: 158 yards
Added this Week: 0 yards
Net Used for 2014: 88.25 yards
YTD Used for Charity: 42.25 yards (28% of total used)
See more stash reports at Patchwork Times!