I had the privilege of taking a class from Esterita Austin today through the East Cobb Quilters Guild on "Painting for Illusion";  I wanted to take it because my art quilting skills could use a little improvement; wait, that's a lie. They could actually use a LOT of improvement, and I've always wanted to paint better.
Esterita is an excellent teacher and I would definitely recommend taking a class from her if you get the chance; she is entertaining and charming and very knowledgeable about techniques and theory behind design and painting on fabric. Also, she invented MistyFuse, so she's smart, too.
Anywho, our class project was a still life of three pots, which were fussy cut from her hand dyed fabric.  The goal was to have light value on the left and dark value on the right to mimic a light source somewhere on the left.  Here's a picture of my piece after fusing, but before painting: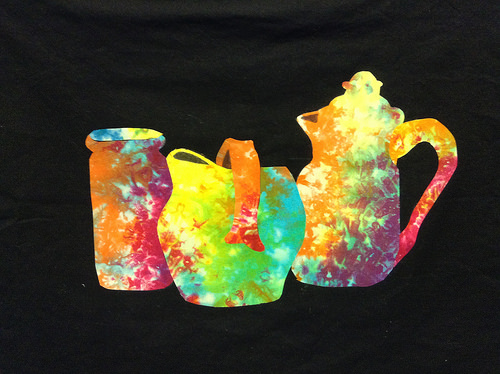 We then worked on painting using some ProChem paints Esterita provided and learned about blending, tints, shading, and all sorts of Fancy stuff. And voila!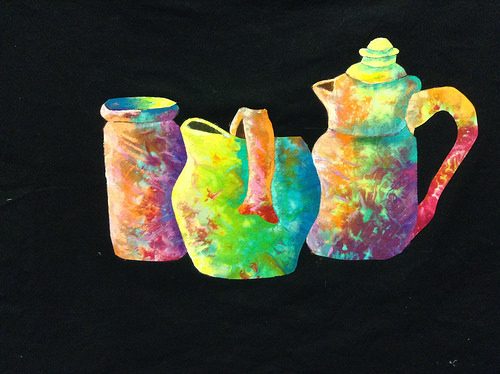 I'm happiest with the pot in the middle - the leftmost one is still a little jacked up.  On the rightmost one with the handle, I'm happy with the painting I did on the lid to give it definition.  Esterita was impressed the skinny dark line was done with paint and not a Sharpie marker.  A+ for skinny line drawing!
I'm done with the painting, but I'm not sure if I'll quilt it.  The colors are not something I'd normally decorate with, but if I do quilt it, it would be with some sort of humorous background to depict the psychedelic nature of the color palette of the pots. And possibly play off the word "pot", if you catch my meeting.