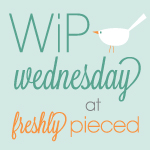 This week I've managed to finish a third quilt top as part of the AMQG panel challenge and get it sandwiched. It's a more traditional Christmas panel with a Jim Shore Santa Claus print, but I only have a poorly lit picture of it. I think it will end up as a Christmas gift for a family member, but haven't decided yet.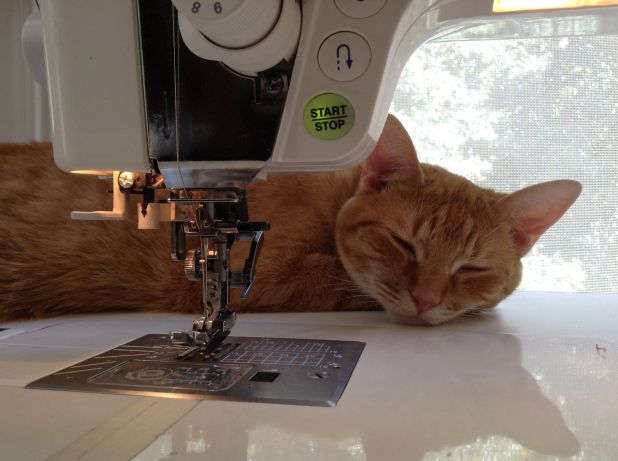 I'm hoping to get it mostly quilted by Thursday evening in time to show it at the ECQG guild meeting, but if I don't make the deadline, the world won't end AND I'll have it to show in October.
Meanwhile, I have a day job, and Nina took advantage of the fall sunshine and machine down time while I worked.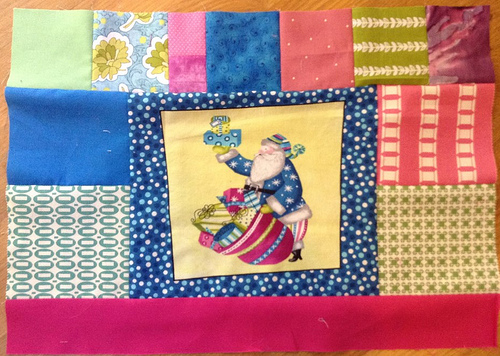 I've also been working on yet another Christmas panel with a little brighter, non-traditional palette. Here's one of the sections framed up by some coordinating scraps. I like pulling squares or strips from my pre-cut scrap stash to frame these sorts of things up because it brings in some funky design elements and helps use up those scraps! I mentioned to Lynn I was making a 3rd and 4th panel as part of the challenge, and she was a bit flabbergasted, I think.
Nina also took it upon herself to "helper" with the scrap sorting.  Here she's sorted herself as a jelly roll strip.