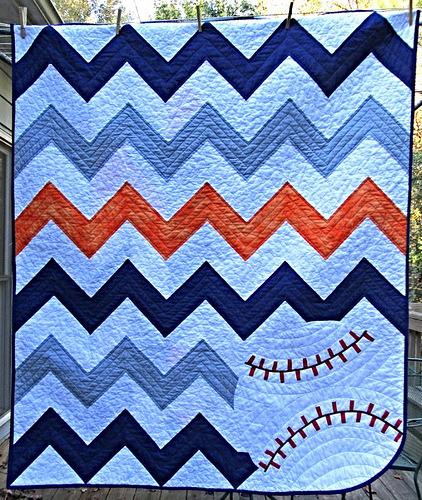 At last! Pictures of the finished Chevron Baseball baby quilt!
This is a bespoke quilt for a friend's pending grand-nephew.  The guidance I got was nursery colors (blue and grey) and that the dad likes baseball and his favorite team is the Detroit Tigers.  I added in an orange stripe to complement the team colors and liven it up.
I had pinned this quilt on Pinterest a while ago, but I thought all that white was impractical for a baby quilt. I kept the element of a giant baseball, though, and I think it works out pretty well.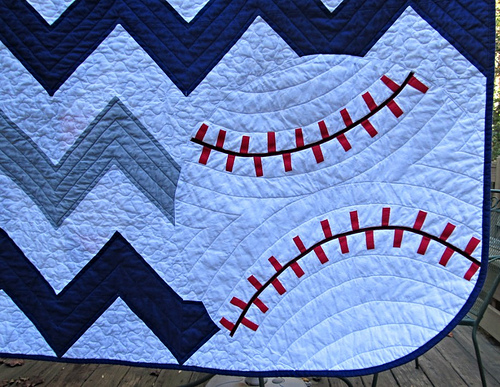 The stitching lines on the baseball are fused down and then quilted for extra security since this will likely be washed quite a bit. It may have been 8 years, but I still remember how messy (and leaky) babies are!
Rather than use the HST method of making the chevrons, I used my EZ Companion Angle to cut the flying geese looking pieces and sewed them together as rows.  I left a big hole (in terms of piecing) where the baseball is, and then stitched the baseball on top of the hole (after glue basting it).  After the baseball was appliqued down, I went back and trimmed any chevron pieces from behind the baseball so it wouldn't show through the white fabric.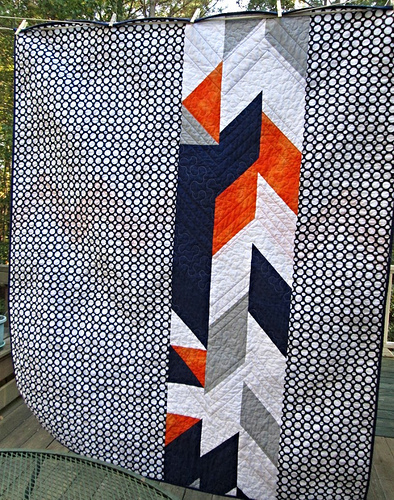 Of course, cutting my chevron pieces left some weird angled bits from my fabric, so I pieced those into the back with a Kaufman polka dot fabric.