I swear, multiple times I thought I should post WIP Wednesday yesterday, and alas, got the end of the day with a glass of wine and the Survivor finale and bupkus. So here's what I've been working on.
Catching up on my Harry Potter POD blocks from the last two weeks, and working on this week's.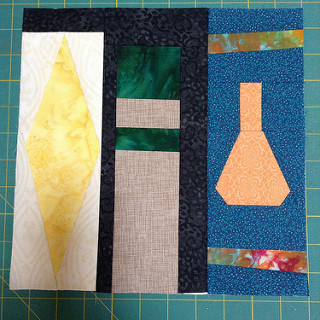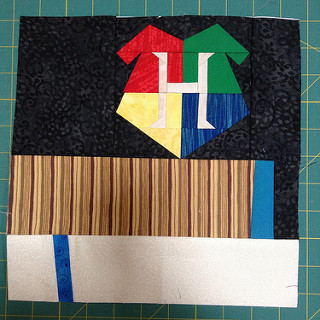 I put together some pink "made fabric" at my retreat last Saturday, and turned it from a hideous blob into something kind of cool.  Here is my hideous blob of pink fabric scraps sewn together (apologies for crappy lighting since I took photo at night):
And then I chopped it up, because there is no ugly fabric, just fabric not cut small enough. Add some sashing, and voila!
I'll get this sewn together as a top at my sew-in tonight.  I'm thinking that I'll do some straight line quilting on it to keep it modern feeling, and possibly use lime green thread for some contrast.  I might stick with white, though.