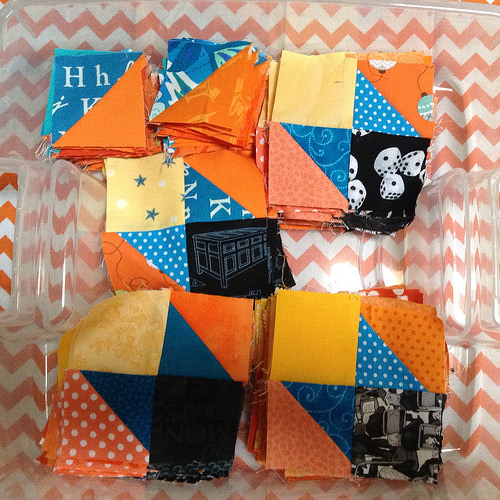 So, a big old Black Friday Sew In and most of my time sewing was spent making 280 HSTs and then 100 units for the Grand Illusion Mystery Quilt for Bonnie Hunter. Of course that doesn't count towards stash usage the way I track since it's not in a finished quilt!
I also made 9 more postcards since I had batting scraps leftover from the bowl cozies, so that helped ooch my usage up. And I have my earlier week's usage, too, from the bunting and the electronics organizer.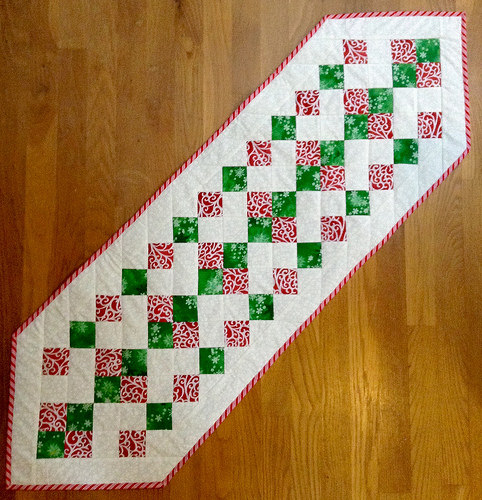 I also made a tablerunner using a pattern I found on Craftsy. It uses 2 jelly roll strips of red and 2 of green, and several more of white for the background.  It goes together quickly, so if you need a quick gift for the holidays, I'd recommend the pattern.  Mine is going into a gift swap at work.
Of course, all that usage was relatively negated by some serious yardage procured at the Black Friday sale at my LQS. A layer cake, a jelly roll, some FQs… the list goes on. Really, I'm doing it to shop local and support the economy! Anyway, I'm not so close to net 200 yards used as a result.
Used this Week: 4.25 yards

0.5 yd for electronics organizer
0.25 yd for more postcards

2 yd for tablerunner

0.5 yd for a gift for someone

0.5 yd for bowl cozies

0.5 yd for bunting

Used year to Date: 321 yards
Added this Week: 10 yards

10 yards various fabric for stash

Net Used for 2014: 193.25 yards
YTD Used for Charity: 116.25 yards (36% of total used)
See more Stash Reports at Patchwork Times!