WARNING: There are graphs ahead! You non-mathy types may want to avert your eyes.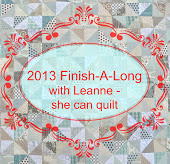 First up, the summation of the Q4 Finish Along Goals.
Dresden Garden – Not done.  It's been hanging in my powder room waiting for the center applique to be stitched down.
Jingle – DONE! Huzzah.
Royal Garden – Top and back are done, but are waiting on some long-arm time to get it quilted.
Oh well. 1 for 3. I'm not disappointed since Jingle was A BEAST to quilt.  I've made progress in lots of projects, although many are quilt-alongs which move at a slower pace than I usually sew at.
For the year-end tally, there's a couple other small entries from the last few days to throw in the mix before the Official-Official count is closed.
Used this last few days: 1.25 yards
2013 Used: 405.75 yards
Added this last few days: 0 yards
Net Used for 2013: 211 yards
2013 Used for Charity: 150.5 yards (37% of total used)
The most common question I got asked at the beginning of the year was if I was going to try to beat my 2012 usage in 2013. In truth, I didn't really set a goal for 2013 usage.  I wanted to use more than I brought in, and I did that.  Likewise, I'm not setting a 2014 goal either.  There's a very good chance I won't get to do as much sewing in 2014 as I have the previous years since I start my new job (which is a promotion with more responsibility) in mid-January.  I'm still working at home, but the demands on my time might shift.
I did surpass my charitable usage this year, which is always nice.  There was a lot of top-making that was giving to Quiltin' Jenny for her prayer group to use up a lot of stash in colors that just aren't part of my normal palette, and that helped tremendously (both my stash and the recipients!).  I'm starting 2014 off with a charity finish, too, since I need a demo quilt for the January meeting of the AMQG.  I expect charitable sewing will continue to be a part of my quilting, but again, I'm not setting a 2014 goal as I might have less time for personal sewing as well.
So, a good year with nice projects finished, and poised for progress in 2014.